A
ndrew Short plans to spend much of the first month of 2020 racing in the deep desert sands of Saudi Arabia. He will be participating as a Rockstar Energy Husqvarna factory pilot in the first Dakar Rally—the single most prestigious off-road rally of all—ever to be held in the oil-rich kingdom. Short is not the first former motocross star to participate in the Dakar Rally, as Danny LaPorte, Gaston Rahier, Heinz Kinigadner, and Andre Malherbe all raced it in their post-Grand Prix motocross careers. But Short is the first AMA Supercross winner to line up for the world's toughest endurance race.
Riding for several factory teams, Short enjoyed a long career as a professional SX/MX racer on the AMA circuit, winning several outdoor nationals, a handful of 125 SX main events, and even the FIM Motocross of Nations when it was held in his home state of Colorado in 2010. One thing missing from his résumé was an AMA 450SX main-event win, and by 2012, a dozen years into his pro career, it seemed like the window had shut on Shorty ever winning one.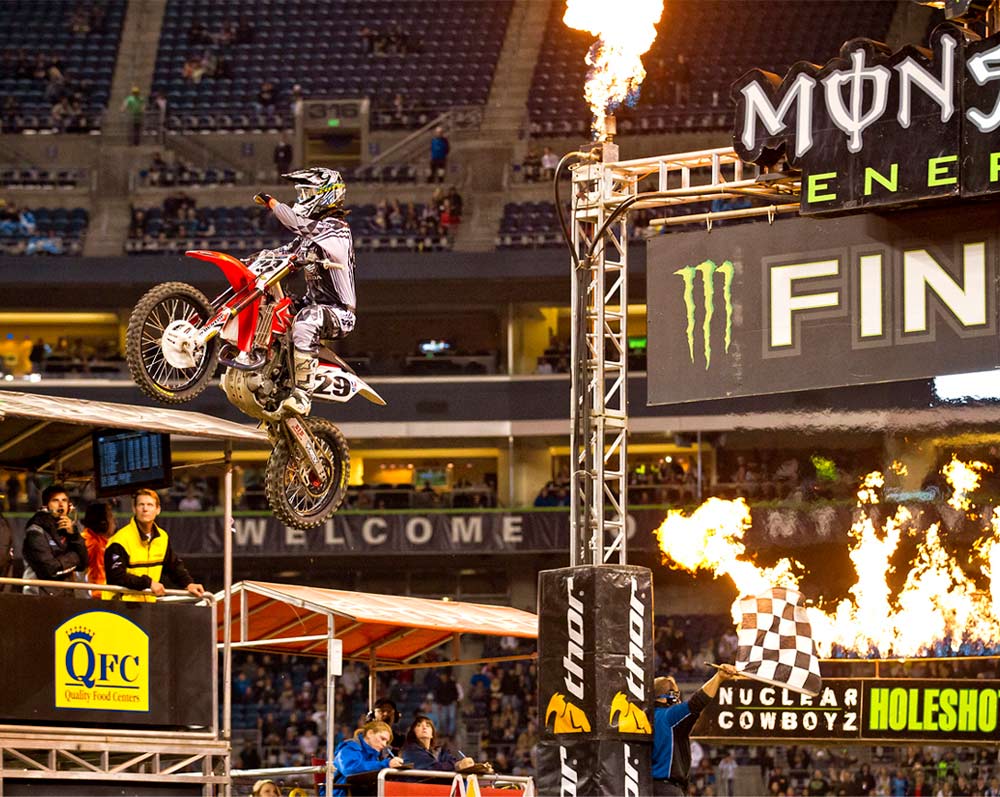 "We didn't even know at one point if we were going racing."
That season was Andrew's first without a factory ride: KTM had let him go after he'd spent much of the previous season trying to shake down their 350cc model against the 450s that ruled the class. The journeyman signed with a new private Honda team run by old friends and championship partners Larry Brooks and Jeremy McGrath. Despite the marquee names headlining the ownership, Team L&Mc Racing struggled to stay on the road, first losing their title sponsorship and then losing their top rider, as Short missed two months with a separated shoulder, returning only one week before the Seattle SX.
As everyone arrived at Seattle's Qwest Field for the 15th round of the 17-race series, so did some heavy Northwest rain, causing a delay in the race schedule. Once things got going, the soggy track turned out to be fairly one-lined, putting a premium on starts. Short didn't get a great jump off the gate in his heat race, starting and finishing fourth.
In the main event, Short got the great start he wanted, then caught another break in a way no rider wishes: Monster Energy Kawasaki's Ryan Villopoto, who had already clinched the '12 SX title, put his foot down in a corner on the first lap and tore his ACL, ending his season on the spot. That left the unexpected leader Short out front on his Honda CRF450R. Coming up behind him was his friend and practice partner Ken Roczen, somewhat ironically riding the same Red Bull KTM 350cc bike that Short was on the year before. It was a classic battle between the crafty veteran and the rising star, and this time the veteran held on for a very unexpected yet popular win.
"With this team, we've had so many ups and downs," Short said of the team's struggles. "We didn't even know at one point if we were going racing, but Larry and Jeremy wouldn't lay down. Other people would have packed their bags and given up, but those guys dug deep for me. And Honda's support has been huge, too. We're pitting out of their rig. We had people driving stuff up here from California in a van. It's been a fiasco, but that's just what we've been dealt with. Everyone works hard, and it pays off when something like this happens.
"There are a lot of people that believed in me and still supported me, even while I went through struggles with the injury and the team went through its own struggles with support," he added. "Some people just dug deep and got me here and never quit. That's what makes it really unique, and I'll never forget what it means to be associated with these people."